With recent restrictions imposed by Boris Johnson regarding the ongoing COVID-19 pandemic, many businesses are finding themselves in an unprecedented position. All "non-essential" brick-and-mortar shops are closed for the time being to slow the spread of the virus. In such volatile times, it can be difficult for businesses to know the right steps to take to inform their customers of their current situation.
One thing is certain – with a nationwide lockdown in place, it has never been more important for you to manage your business' online presence.
Here are four simple steps to help you do just that…
Local business listings
If you are predominately a local business, search engine results will often display a directory listing, rather than a direct link to your website. Therefore, it is essential that you update your Google My Business listing – and other directories you might be part of – to reflect your current situation. This is where you should list any changes to opening times, delivery slots, new contact details, and so on.
Social media
With so many people staying at home, platforms like Facebook, Twitter, and Instagram are seeing unprecedented use. This makes them the ideal place to inform your followers and customers of any changes to your service. Update your social media pages with your new operating information and take the time to engage with your followers to reassure them that you are still there for them.
Google posts
If you own or manage a Google My Business account, you can create Google Posts that keep your customers informed about the status of your business. Such posts show up in search results and on map searches for seven days. This reassures your customers that you are on the case, and that your information remains relevant.
Your website
There are two main additions you should consider. The first is a general blog post that you can set as a temporary home page, advising your customers of the immediate impact of COVID-19. Here you can set out all the changes you have had to make, address concerns regarding stock, delivery, opening times, remote working, and so on.
The second addition is an FAQ page. Many businesses already have one of these for common queries relating to their industry and products. Including a section on COVID-19 towards the top of the page will help address the immediate questions your customers might have.
We hope that these hints and tips are of some use to you in this difficult time. For more information, or assistance in managing your online profile, get in touch with Easy Internet today.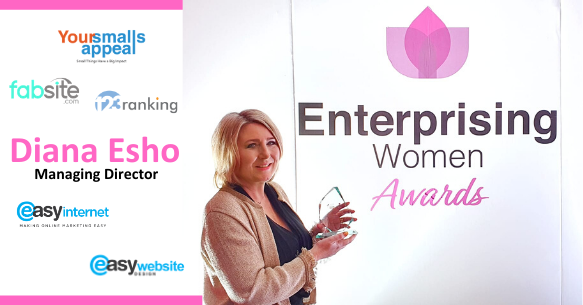 Enterprising Women's purpose is for business women to support one another at whatever stage their career is by networking and thorough advice. The awards are a celebration of women in business and the work that is carried out every day. 
Our managing director here at Easy Internet Services Diana Esho, has won the 2020 Social Commitment Award. She ensures the companies she manages are run in an ethical way so that they can have a more positive impact on society; for example, Easy Internet is a disability confident employer.
Easy Internet Services was established in 2000, and it is where you can get all your digital services. Diana also looks after the sub-brands 123 Ranking, which provides affordable SEO to SME's, and Fabsite – a budget website design service that lets you spread the cost of payment per month.
Additionally, she runs Your Smalls Appeal which aids girls in Africa by collecting contributions of bras, new pants and menstruation kits which ensure girls stay at school. She also supports the girls by paying for their uniform, books and tuition who have limited access to education.
She has a remarkable track record of success and has an exceptional drive to succeed.
Check out Easy Internet Services