Pay Monthly Website Design
Are you looking to start a new business venture, blog, want to share your work online? And you require a new site or an existing organisation but need an update of your website…
Fabsite is a website design service where our experts build the website for you for a flat fee each month. They listen to your needs and develop the site according to your requirements. When they start creating your site, they ensure your users have the best user experience as well as keeping in mind SEO.
The websites we build are fully responsive and is compatible with mobile, desktop or tablet. All our sites come with an SSL certificate which stands for HTTPS; this shows your website is secure so that consumers can have that assurance. We also have an easy to drag to drop editor so if you want to implement any changes, then you can without struggling.
Our packages begin from £29.99 per month in where you will get domain registration, reliable web hosting, SEO and your own marketing dashboard.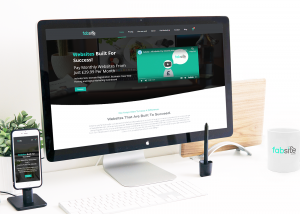 We have 3 website packages available; Fab-Starter, Fab-Pro and Fab-Shop.
Fab-Starter covers the essentials you need, showcases your company online and is ideal for startup companies or small businesses.
Fab-Pro is a good option if you want to stand out from your competitors and covers more features such as video embedding.
Fab-Shop is for businesses who want to sell their products or services online.
Unlike other companies! After your 18 months of investment, you will completely own the site. We also offer your very own digital marketing dashboard that has many tools such as keyword research, competitor analysis and more.
If you want to find out more and what we can do for you, head over to https://www.fabsite.com