Paradigm Wills and Legal Services
Paradigm Wills are a law firm based in Leicester and London, specialising in Wills and Estate Planning. Operating throughout the UK as well as with clients outside the UK who require solutions for the UK based assets, the firm was set up by directors Bhavin Gandhi and Satwinder Sidhu in 2015. They both bring a wealth of experience in Wills and Estate planning. They offer excellent communication and customer care and handle cases related to all aspects of estate planning, from establishments of trusts to power of attorney.
Paradigm had outgrown their Yell.com website and wanted a new site to reflect the growth that their business was experiencing and show the professional angle of their website. They wanted to stand out and have a website that showed what their business was about.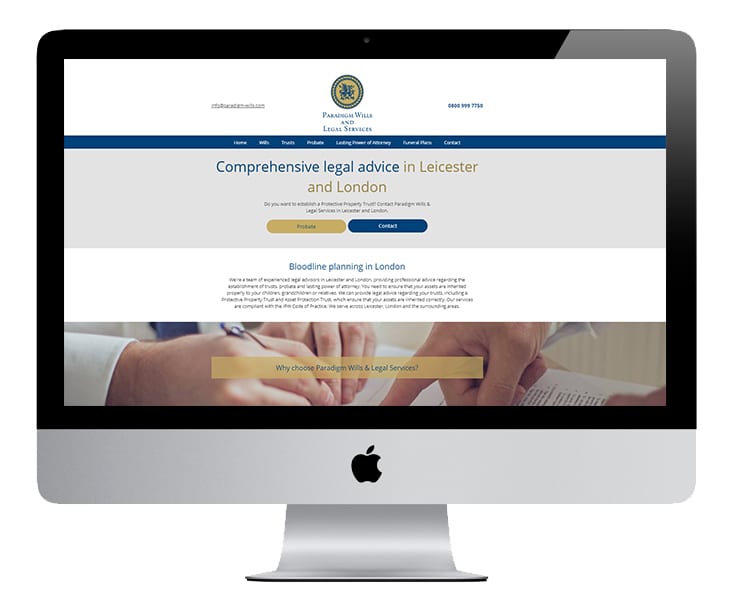 With their current site in Yell, Paradigm were limited in the changes and customisation that was possible. The website wasn't able to grow with them, as their business expanded and the constraints of the builder meant that there was nothing to make their website stand out. We built a new WordPress site which could be adapted with exciting features and would be able to grow with the business.
We would always recommend a company own their website outright rather than 'renting' it from developers or site-building platforms, but as lawyers, making sure the website was their legal property was doubly important to Paradigm. By moving away from Yell.com and to the new WordPress site, Paradigm have complete control and ownership of their website.
We wanted to put Paradigm's values and commitment to customer satisfaction front and centre on their website and help the site to capture visitors' interest right away, preventing them from 'bouncing' off the site. Not only is keeping the bounce rate low important for any business, but it sends good signals to Google about the quality of a website.
Creating a video header made a bold statement about their business, and is also a dynamic feature, sure to catch a visitor's attention.
Simplified navigation helped Paradigm to group their services in an easy to understand way. The directors were also keen to show that they are approachable and friendly to work with, so requested conference call functionality to be added.
We loved this smart way to make their website stand out, and our developers got to work on making this a reality. The finished feature includes online calls, live chat and video calls, as well as showing director availability in real-time.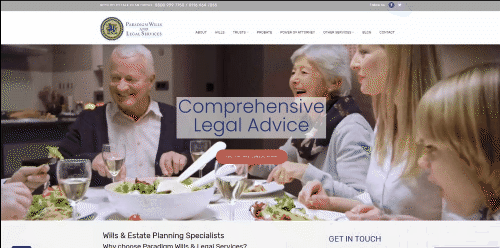 Paradigm Legal Services new website shows their professional and customer-centred approach to their work. The video banner immediately catches the attention of a visitor and makes the site stand out from the competition, as well as adding an emotional touch to the legal area they specialise in. Along with the conference call feature on the contact page, this all encourages enquiries and leads to help the business grow.