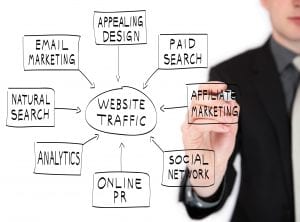 89% of UK adults have accessed the web in 2017,  so the internet has become a very important marketing channel.
In fact, having a form of web presence and being able to promote it to a relevant audience has become a must.
Simply having a website is no longer enough if you want to promote your brand online.
You will need to consider other digital marketing channels such as social media, email marketing and SEO as well.
The necessity to drive traffic to your website using digital marketing isn't just for the big businesses.
Many small businesses have seen their business expands because they were targeting the right online channels.
That is why it is very important to choose the right strategy.
Choosing the right digital marketing channel
Our team of SEO, PPC and social media experts will help you choose the best digital marketing strategy for your business.
They will meet with you to try and understand the business and get an idea of the type of audience they are targeting as well as the goals you are trying to reach.
Then using the tools at their disposal, they will build a marketing campaign that will fit around your business and your business objectives.
After that, once the campaign is launched, our team will be in regular contact with you to ensure you are happy with their work.
Not only that, but those calls are also the opportunity for you to feedback and provide ideas for future campaigns.
We pride ourselves in being transparent with our clients so we will ensure you receive regular reports.
I am new to digital marketing, can you help?
Of course, we can!  Not only can we create a marketing campaign for you, but our web design team will provide you with a state of the art website.
Not only will the website look good but we will make sure it will both responsive and SEO-friendly.
Additionally, our team is also able to create bespoke social media pages for you so you can get the most out of your website.
Then our team can help you get the most out of it by creating the digital marketing campaign which best suits your business.
Alternatively, you can choose a bespoke package so that you are able to make the most of a whole range of digital marketing services.