Next month, Google will be releasing their May 2021 Algorithm update which is focusing on introducing Page Experience as a search engine ranking factor. Google announced these changes back in May last year, and they have been gradually introducing new features to their tools which will support the update.
A new 'Page Experience' tab has already been added to Google Search Console. Currently the content is limited, however, we expect to see more information as the algorithm update and subsequent adjustments roll out over the coming months.
The tab currently shows the following information:
Core Web Vitals
Mobile Usability
Security Issues
HTTPS
Ad Experience
A chart showing the percentage of mobile urls that have a good status in core web vitals and no mobile usability issues
Google created a developer guide detailing page experience criteria. This guide focuses on mobile experience and includes page loading speed, mobile friendliness, whether the site uses an SSL certificate, the presence of intrusive ads, and whether content remains static during the page load.
The usability factors mentioned in the guide are part of Google's Core Web Vitals.
Core Web Vitals are metrics that are based on real-world, user-centred data. These tests focus on load time, interactivity, and stability of content.
These are measured as:
Largest Contentful Paint – LCP: LCP measures the perceived load speed of the page and how long it takes for the main content to load. This score should be less than 2.5 seconds.
First Input Delay – FID: FID measures the time between the user first interacting with the page and when the browser begins processing the interaction. This score should be less than 100 milliseconds.
Cumulative Layout Shift – CLS: CLS measures the visual stability of the page. This score should be less than 0.1.

Mobile pages that load quickly are vital for retaining visitors. Google research shows that the longer the page takes to load, the higher the likelihood of losing the visitor. The probable bouncerate for a 1-3 second load is 32%, increasing to 123% at 10 seconds.
To help webmasters improve the load speeds, Google have already incorporated Core Web Vitals into their tools, including PageSpeed Insights, Chrome UX Report, Search Console, Chrome Dev Tools, Lighthouse, and the Web Vitals Extension.
Additional Page Experience factors & how to improve them
Mobile Usability: Ever since Google switched over to mobile first indexing in 2018, mobile usability has been a key focus of web development. For websites to be classified as mobile friendly, they need to be accessible on a variety of mobile devices. Some of the main mobile usability issues are content being wider than the screen, text being too small, clickable elements too close together, and incompatible plugins. The Mobile-Friendly Test can help you to establish whether your website is mobile friendly.
Security Issues: Infected files and website hacking are just two of the ways your website can be affected by malicious or deceptive content. Sometimes, it's difficult to detect these issues which can ultimately lead to manual penalties and drops in keyword rankings. To protect your search engine positions as well as your visitors, head over to the Google Search Console Security & Manual Actions section which will highlight any issues.
HTTPS: Over the last few years, there has been more emphasis on secure browsing. Many web browsers now highlight sites that aren't using an SSL Certificate. Correctly configured SSL certificates make it virtually impossible for third-parties to access personal data. As part of the Google Search Console Page Experience tab, you can now view whether your website provides sufficient HTTPS coverage.
Ad Experience: Google assesses websites on whether their ads are distracting, interrupting, or otherwise not conducive to a good user experience. If a page is classed as providing a poor ad experience, this decision will be applied sitewide. If you choose to include ads or pop ups on your website, it's worth considering whether they are actually beneficial and if they affect usability, especially on a mobile device.
Cumulative Layout Shift (CLS): Static page content during the page load is important for user experience. Content that moves around is not only annoying, it can lead to accidental clicks such as the one shown in the below image provided by Google.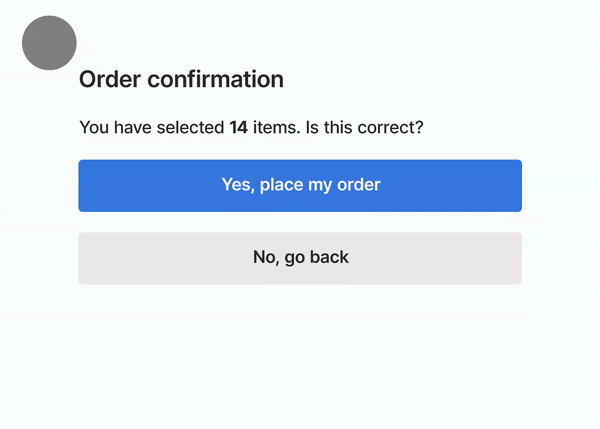 Google's Rudy Galfi stated that, in addition to the above factors, content will still play a major part in search engine rankings. Although combing high-quality content with a great user experience should be the goal, it will still be possible for websites with informative content to rank well, even if they have a lower than average page experience score.
Getting your website ready for the May 2021 Algorithm update
If you need help getting ready for the upcoming Google algorithm update, contact Easy Internet on 0333 320 8099. Our team of SEO experts can get your website ready for the changes and establish Google rankings that endure algorithm updates.